Guitar and Bass Repair


Setups - Adjustment of truss rod, nut, saddles, pickup height, tremolo and intonation.
Tuners are tightened and lubed, fretboard cleaned and body polished.
Fret Leveling - Level, crown and polish existing frets. A setup is included.
Refreting - Replace some or all frets, and level, crown and polish all frets.
Partial refrets are prorated. A setup is included.
Fretboard - Leveling and Compound Radiusing.
Nuts and Saddles - Custom made from bone material or preshaped Tusq or plastic.
Bridges - Acoustic: Old ones reglued or new ones installed.
Electric: Tremolo to hardtail conversons, Floyd Rose, etc.
Truss Rods - Repaired or replaced.
Necks and Headstocks - Severed or cracked can be rejoined invisibly and refinished.
Bodies and Braces - Cracks repaired, pieces reassembled and permanently reglued.
Refinishing - Touch-ups or Total. Nitrocellulose lacquer clearcoat over solid color or stain.
Custom Pickguards - Any shape you wish in any available material.
Electronics - Pickups added, controls replaced, complete rewires, cavity routing,
Custom Installations.
Cavity Shielding - Silence that Beast! Cavity shielding and grounding schemes can
eliminate 90% to 100% of that ugly buzz.
Other Services - If you need a repair not listed above, please
contact us
.
1966 Martin O-18

Many years of string tension lifted the bridge and turned the round holes into slots. The original Bridge was removed, repaired and reinstalled. This Classic guitar needed more than just a Bridge Reset. Being repaired prior to a sale, it was important to preserve it's value by repairing the original parts instead of replacing them. The frets and Spruce top were also repaired.
SEE THE ENTIRE PROJECT.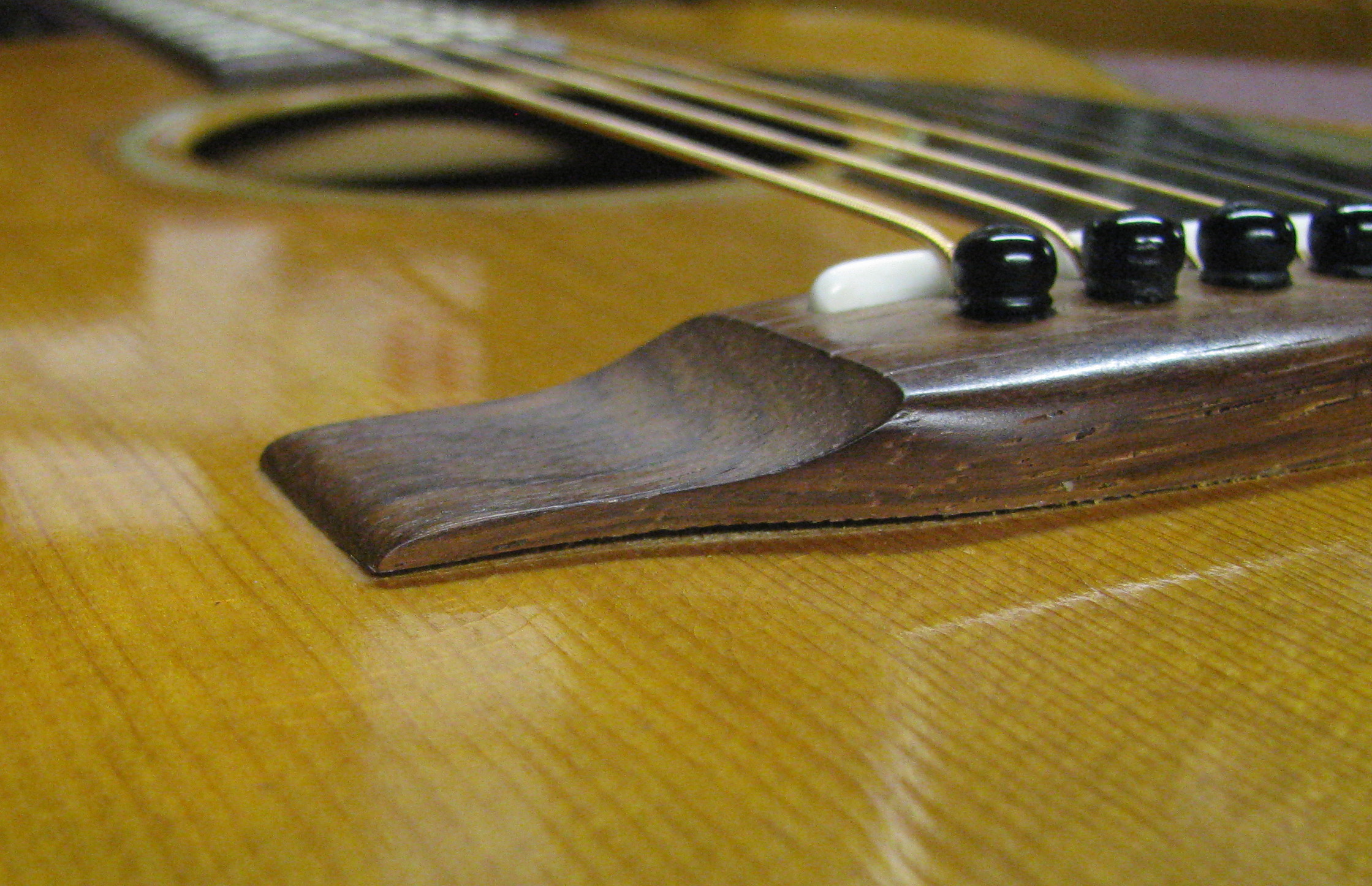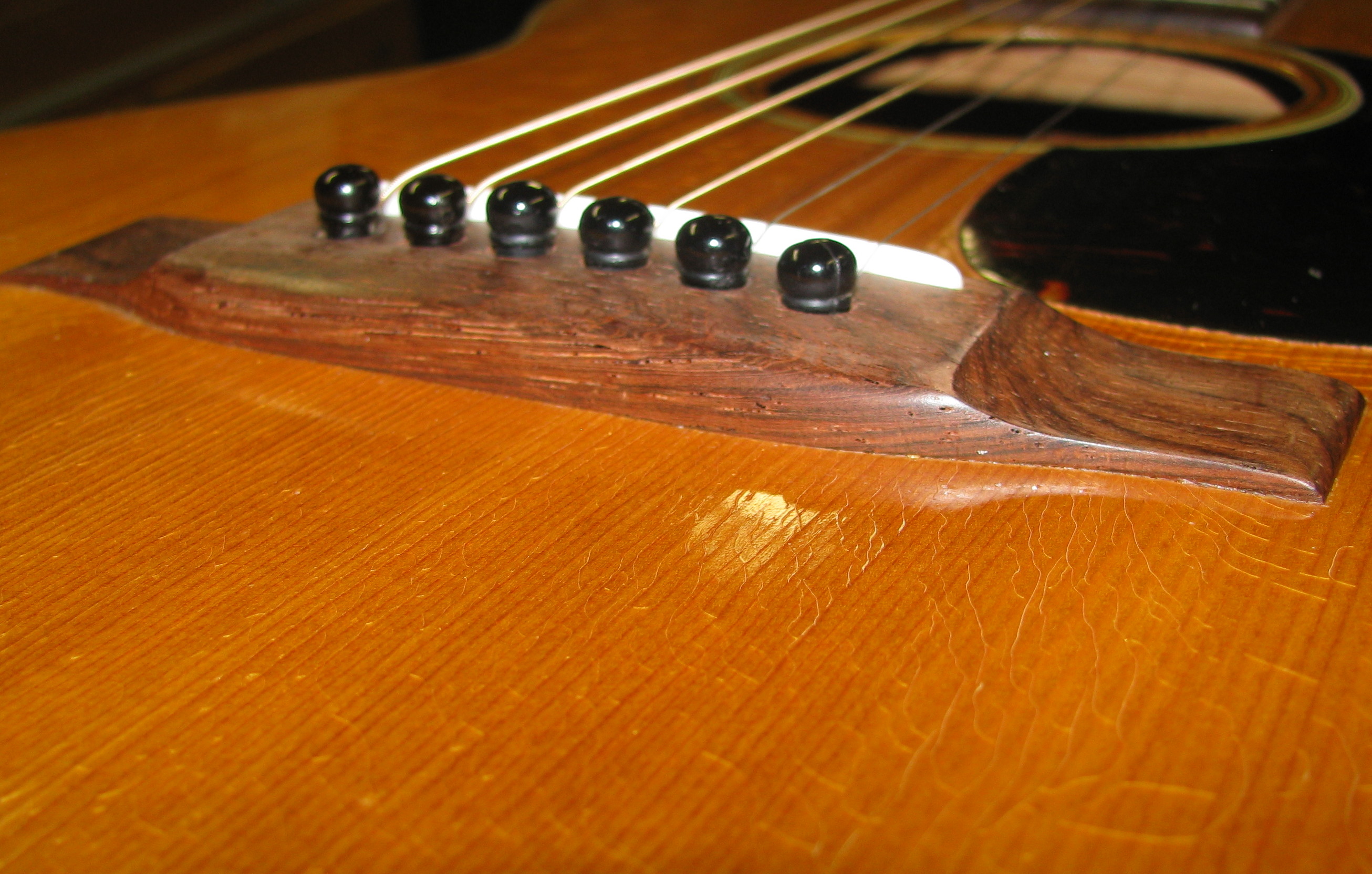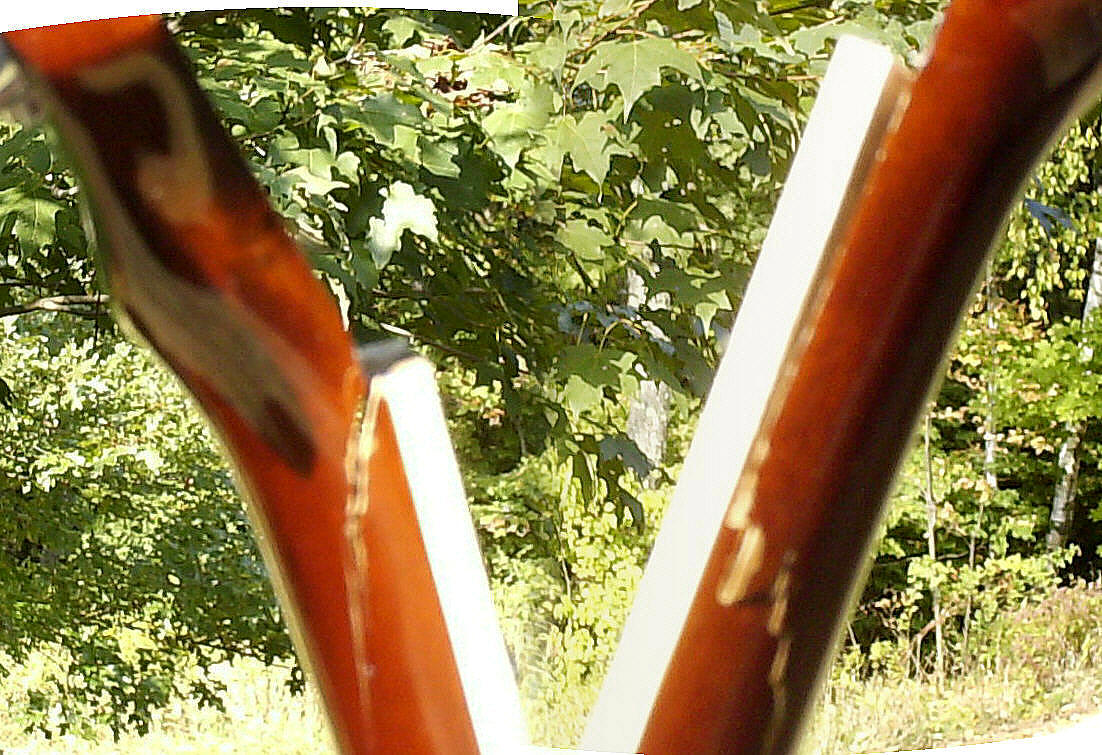 Broken Necks and Headstocks
This Montana six-string took a whack on the tuner posts and is losing it's head. If your guitar looks like this, DON'T THROW IT AWAY. It can be repaired so that the damage is invisible and the strength of the neck is restored. Not only that, PLAYABILITY IS UNAFFECTED!
Click here to view this and other projects

Truss Rod Repairs
The threads of and old Fender Precision Bass truss rod (as well as others) are susceptible to seizing up, backing out, loosing their grip, and frustrating their owners. We have repaired, replaced and restored several to full adjustability. In every case, they are stronger and less likely to jam again
than they were when they were brand new.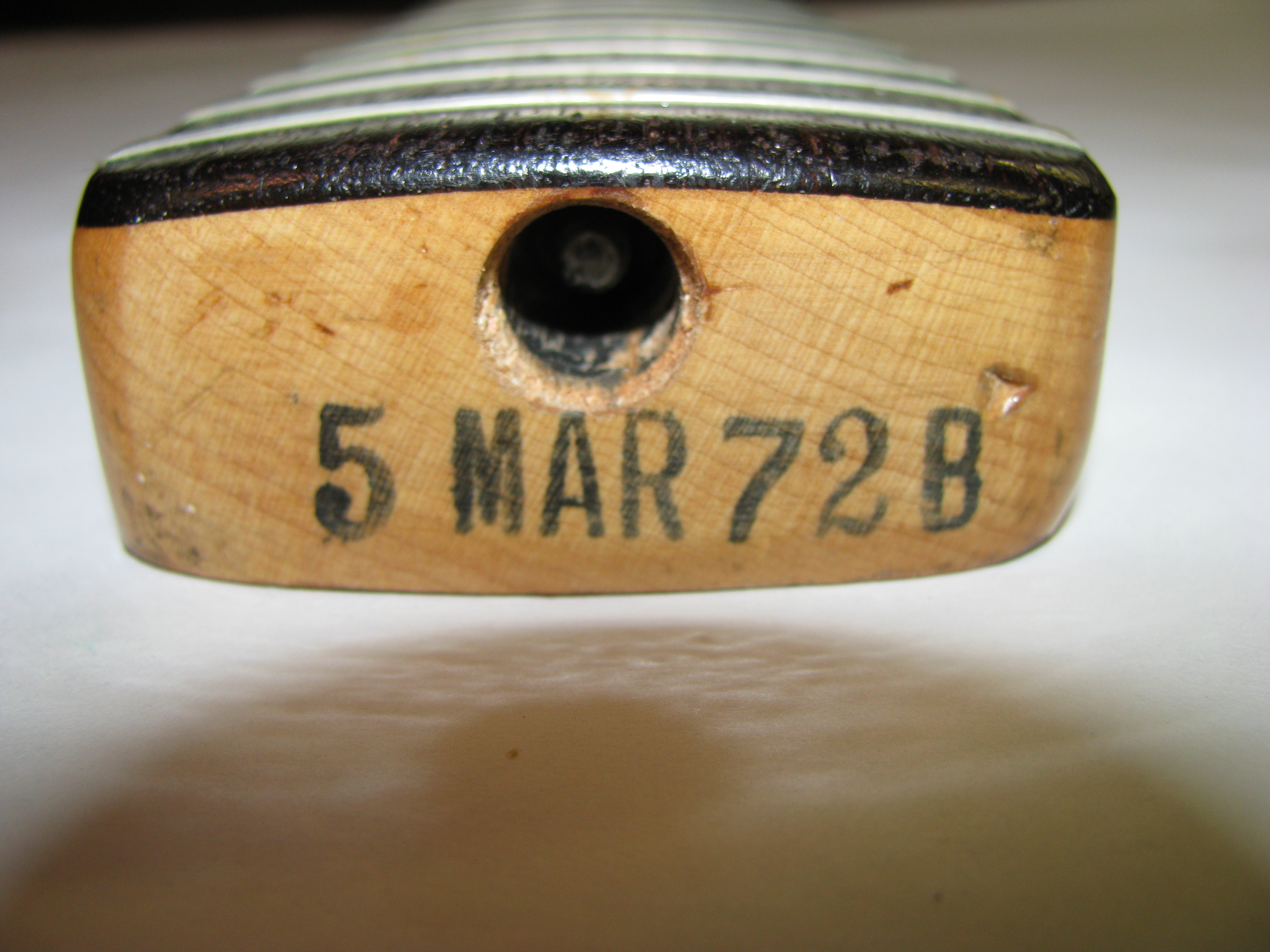 Click here to view Truss Rod Repairs


Guitar Refinished and Rewired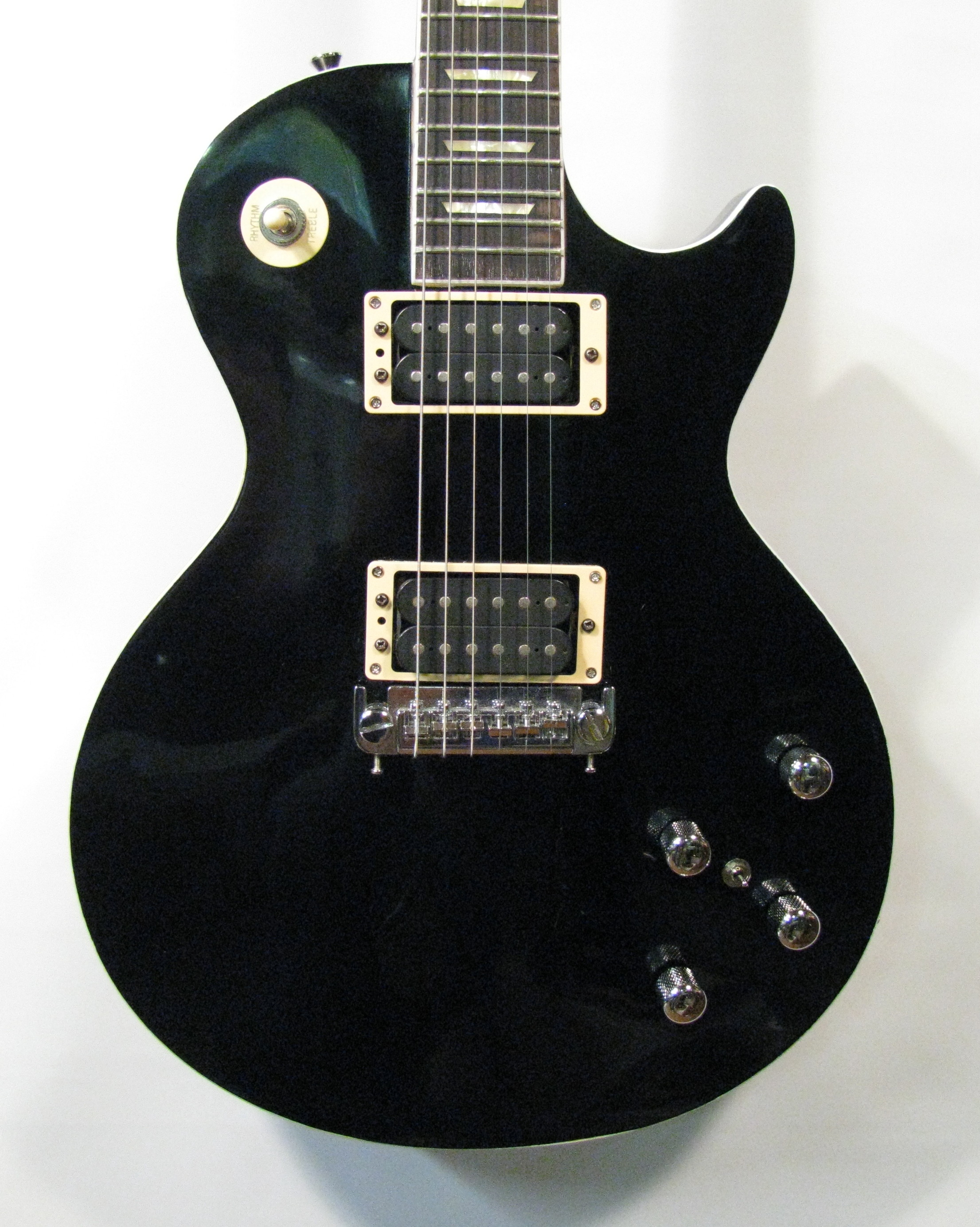 Sometimes you find a "diamond in the rough". This amazingly solid Les Paul clone deserved a total remanufacture.
Eight coats of Clear over eight coats of Black nitro, Coil-splitter switch, Custom Pearl Inlay, etc.
View this Project
.




Estimate Request Form
It is always easier to provide a good estimate when the instrument can be examined.
However, a preliminary estimate can be given sight unseen. For a quick quote on any repair, use the form below. Tell us what your guitar, bass or amp needs, or describe the defects and symptoms, and hit SUBMIT. We will reply ASAP with an Estimate.